Contacts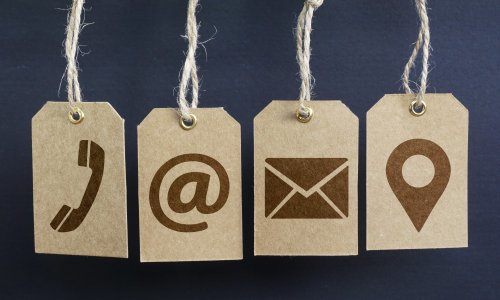 OFFICE HOURS
Monday – Thursday 9:00 – 17:00 (CET)
Friday 9:00 – 15:00 (CET)
Saturday, Sunday: upon agreement
INVOICING INFORMATION
NK Langa s.r.o.
Poštovská 68/3, 602 00 Brno, Czech Republic
Company Registration No.: 26921162
Tax Identification No.: CZ26921162
The company is registered with the Regional Court in Brno, Section C, Insert 45 665
Data Mailbox: rr4pt5z
BANK DETAILS
Fio Banka, Account No.: 2500431148/2010
IBAN: CZ8220100000002500431148
BIC: FIOBCZPP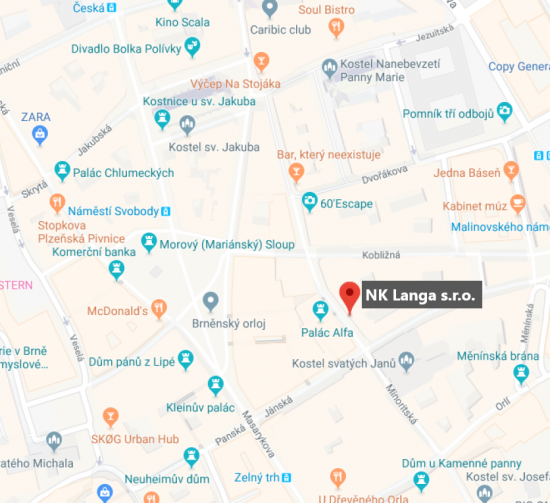 We can help you with your enquiries in person, over the phone or via email. We will do everything in our power to make sure you are satisfied fully benefit from our provided linguistic services. If you have any questions, please do not hesitate to contact us. We are available to you on working days, and eventually at weekends.
In 2014 , Lukáš successfully graduated from the Faculty of Business and Economics at Mendel University in Brno. He gained work experience in Germany and the USA, becoming fluent in both English and German. In 2008, he co-founded the translation company NK Langa (formerly NK Translators). At present, Lukáš is not only responsible for the strategic management of the company, but also actively participates in its everyday operations, including the coordination of linguistic projects. He supports our in-house employees and freelancers with his extensive project management and organisational skills, as well as his business talent.
In his free time, he likes to do sport, attend cultural events and educate himself. He keeps himself up to date on current events by actively travelling, seeing new places, and meeting new people. He has visited India on a number of occasions and is learning more and more about its culture and diversity.
The long-term goal Lukáš has set for himself is to make NK Langa an internationally respected player in the field of translation and localisation services.
Jiří studied management and economics at Nottingham Trent University. He has been working in the field of business, marketing and strategic management since 1998. During this time he has acquired broad experience in both the Czech Republic and abroad. He worked as a sales representative, was self-employed, an au-pair, a castellan, tourist guide, COO, CSO, CMO and CEO. In NK Langa, he is responsible for the company´s strategic management and development. In addition, he is a business consultant in the field of business strategies, sales techniques and strategic marketing.
Jiří spends his free time with his family – wife and two young children. He describes himself as an enthusiastic biker, amateur beekeeper, gardener, handyman, woodcarver, avid sushi consumer and a loving father.
The long-term goal Jiří has set himself is to make NK Langa an open and friendly company, one in which its employees are happy and have the opportunities to constantly learn, teach others and evolve.